What Has The COP 26 Climate Summit Achieved?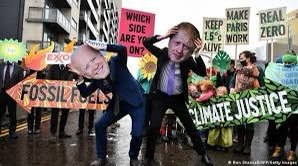 COP 26, Glasgow, Scotland, a two-week conference, concluded on Nov. 13. COP stands for Conference of the Parties – the most important meeting on climate change.
The conference brought government leaders and diplomats from nearly 200 countries together to discuss new goals to address the serious threat of climate change. 
Since its 1992 meeting in Rio de Janeiro, the United Nations has gathered almost every country on the planet for global climate summits; to combat the damage that humans have done to nature, and to stabilize the levels of greenhouse gas emissions in the atmosphere.
So, what was discussed in this year's COP climate summit?
Coal
For the first time, there were negotiations to reduce the use of fossil fuels – responsible for 40% of annual CO2 emissions. 
However, due to a last-minute call from India and China, some of the world's biggest coal burners, world leaders agreed to give way to a weaker commitment, changing the words from "elimination" to "reduction" of coal. 
Trees 
More than 100 nations have pledged to halt deforestation by 2030.
 However, it is unclear how the commitment will be enforced. 
New Commitments on Methane Pollution
More than 100 countries agreed to join a plan to reduce 30% of methane emissions by 2030. A major step to limit one of the main contributors to climate change.
The pledge includes six of the top 10 methane emitters in the world: the United States, Brazil, Indonesia, Nigeria, Pakistan, and Mexico. 
China, Russia, and India did not join the plan. 
A U.S.-China pledge
The United States and China, by far the world's two biggest carbon emitters, have agreed to cooperate to prevent global warming from exceeding 1.5 degrees Celsius. 
The US-China agreement lacks specific details, but stresses that Chinese and US leaders will work to push for clean energy, reduce deforestation, decrease methane emissions, and help speed up transitions to a global net zero economy.
Reinforce 1.5°C Goals by 2030
 The pledge not to exceed 1.5 degrees Celsius of global warming, enshrined in the 2015 Paris Agreement, was also highlighted. 
According to the Intergovernmental Panel on Climate Change, to prevent global temperatures from rising above 1.5 degrees Celsius, all countries across the globe must commit to reducing emissions faster and deeper than they are already doing. By 2050, almost half of greenhouse gas emissions need to reach net zero emissions. 
Criticisms of COP26
Although the COP26 agreement in Glasgow was a significant progress towards addressing the severity of the climate crisis, some climate activists, and advocates strongly criticized COP26. The agreement also left unresolved answers on how fast each nation must reduce its emissions.
China, Australia, and Russia have set no new carbon emission reduction commitments for this decade or have announced goals that scientists consider weak.
Also, until now, only a few rich countries have contributed money to help poor and vulnerable nations to cope with the impacts of climate catastrophes.
Some experts point out that the only measure of success after COP26 will be if countries turn their commitments into action. 
Who were some of the people who attended COP 26? 
British Prime Minister Boris Johnson, Nicola Ferguson Sturgeon First Minister of Scotland, Presidents Biden, Xi Jinping of China, Jair Bolsonaro of Brazil, Vladimir V. Putin of Russia, among other diplomats were among those attending the COP 26 climate summit.
Also, activists, including Greta Thunberg, inside and outside the conference, monitored the proceedings and, in many cases, were pushing for more ambitious goals.
COP 27 is expected to be held in Egypt next year.