LP! Review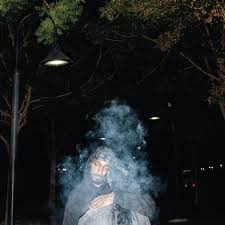 Baltimore rapper JPEGMAFIA (JPEG, Peggy or even Peglord for short) has been one of the most popular icons of experimental rap for years now. He could be on the Mount Rushmore of the genre, on par with the likes of Death Grips, Earl Sweatshirt, even Danny Brown. After years of dropping largely unnoticed material under various aliases, he finally gained the attention of critics with the release of 2018's Veteran.
Sonically, this album is weird, aggressive, and uncompromising. The beats are violent toward the listener, welcoming fans of extremity and maximalism with revving, washing and squeaking sounds, and enthusiastically rejecting those expecting a casual listen. As for lyrical content, JPEGMAFIA trash talks everyone whether it be liberals, bloggers, or Morrissey, throughout practically the entire runtime. Nobody was safe from his scorn.
The hype grew with his next release, 2019's All My Heroes Are Cornballs. It's a surreal listen, a chaotic journey of plunderphonics much more sweet and melodic than Veteran. It was as if you were in Peggy's mind, where every once in a while, a full song just happened to bubble up, only to pop and lose itself into the ocean of constant sampling and found objects from which it came. Peggy was as mean as ever, but only when he wanted to be. He'd fill the gaps with more introspection this time, challenging gender normalities and rapping about his life on the internet.
Both albums could easily be revered as cult classics now.
This leaves us at the present era of JPEGMAFIA's discography, a series of releases which I've decided to call the "Exclamation Point Trilogy". You'll see why. It was kicked off with the single BALD!, an easier listen that aligned with his other, more popular songs like 1539 N. Calvert and Free the Frail. It was quickly followed by COVERED IN MONEY!, BODYGUARD!, and more (you see the pattern). Fans predicted an album, and eventually they'd be right. In the meantime, though, they were delivered the aptly titled EP! and EP2!, a pair of extended plays compiling all these singles, released only a couple of months apart. The former delivered one of the most consistent track lists on a Peggy project so far, while the latter disappointingly couldn't live up to its older sibling's quality in any dimension.
The final entry (thus far) of this series is LP!, Peggy's fourth album overall. It was announced, along with a tour, with the release of the lead single TRUST!. The echoing synths and Peggy's soothing timbre would set the tone for LP!, despite how dynamic the album would turn out to be. It was followed closely by HAZARD DUTY PAY!, a fantastic single boasting a Kanye-level sample of The Winans that would prove to be a turning point for the album's rollout. Unfortunately, this sample couldn't be cleared, meaning the track wouldn't surface on conventional streaming platforms… and it never did. To defy the binary decision between either including or excluding the song from LP!, Peggy ended up releasing the album like he was bearing a set of twins; he dropped both an "online" and an "offline" version. The former could be streamed, and brought back a few tracks off EP!, while the latter was left off streaming and could only be listened to on YouTube and Bandcamp, yet contained the tracks that otherwise would have been abandoned for their sample complications, including the aforementioned HAZARD DUTY PAY!.
The conditions of this album's release are interesting and worth discussing, and no less are the qualities of the music itself.
Following in the footsteps of EP!, LP!'s track list is solid. Throughout forty-nine minutes and eighteen songs, each track has a strong identity, and consistently follows the dark, whimsical and melodramatic tones established at the start of the record.
DIRTY!, for example, is based on a chord progression of high pitched, at times off-key steel drums. Halfway through the song, the beat stops for a moment to emphasize the song's industrious percussion and introduce hard, banging synths before returning back to the beat. It's little moments like these that keep listeners engaged to songs that, for the most part, are just based on loops. Surprising audiences with unusual song structures, weird instruments and exciting vocal inflections is a task forgotten by many of Peggy's peers.
This exhilaration is perpetuated with a rainbow of songs to follow. JPEGMAFIA shouts over a prog-metal bridge on END CREDITS!, incorporates a drum solo into THOT'S PRAYER! and a keyboard solo at the beginning of DAM DAM DAM!. Each track boasts at least a single special feature, carving itself a deep niche into the record, deeper than the average tracks on his previous works. And, despite how different each track is to one another, the playful experimentation informing them all contributes to the mysterious nature of LP! overall. The balance found between these two very important qualities, especially the newfound emphasis on single power, is what separates LP! from its long-play predecessors; while all the songs on Veteran and All My Heroes Are Cornballs are at least good, many contribute to the success of the front-to-back album experience better than they serve as a fulfilling listen in a vacuum.
Of course, no album is without its flaws. One of Peggy's biggest testaments to his success as a public figure is the capability he had to convince his fanbase that NEMO! is a good song. The beat is minimal and atonal in a way that's less than exciting, reminiscent of the worst moments on Veteran.
The only other problem I have with the album is the way it ends off, even though it's really not that bad. As I mentioned, the online variant of LP! includes tracks on EP!. To be specific though, the album ends with CUTIE PIE!, BALD!, and the BALD! remix (featuring the one and only Denzel Curry), in that order. And while I love each of these songs, the immersion of the album is slightly weakened. THE GHOST OF RANKING DREAD!, named in honor of one of the most dangerous men to ever reside in the UK, could have possibly made a better ending. The beautiful, futuristic singing from Australia's Tkay Maidza is addicting, mixed perfectly among the smooth synth chords that bless the song before the horns and guitar come in at the end. It's a crazy pleasant listen, and personally I wouldn't have been upset if LP! had ended on that note. Not to mention BALD! and its remix being adjacent in sequence. Normally I'd find this totally inexcusable, as it would completely break the progression of the album. It only sounds natural because JPEG had incorporated false stops into previous tracks, so when BALD! ends abruptly only for the beat to slowly pick back up again for the final song, it isn't even out of place.
LP! is a perfect ending to The Exclamation Point Trilogy, and JPEGMAFIA's most cohesive project overall. The production is crisp all the way through, sounding just as good in concert, and Peggy is as clever and funny as ever. Not only is this a great way to continue the artist's canon, but it's also the album I would recommend anyone unfamiliar with his work to start with. If you've grown too accustomed to the climate of hip hop right now, Peggy puts a twist on the art that certainly will, at the very least, intrigue you.