Faculty Association Seeks Raises, Attention to Adjuncts in New Contract
President Bonahue: the contract should be tied to SCCC's strategic plan
The Faculty Association, the union representing the Suffolk County Community College's 1,305 full- and part-time faculty, is seeking raises, an attention to serving adjuncts and additional contributions as part of contract negotiations with the college. 
The previous contract expired at the end of last August, and negotiations for the new contract began in December. The union is operating under the former contract's stipulations while negotiations are ongoing.
"We are looking to have raises in our next contract. Including contributions to some other things such as conference attendance. And we certainly want to focus on adjuncts and make sure they are properly served." The union has 409 full-time and 896 adjunct members.
Morelli said both sides have agreed to keep the details of the negotiations confidential, but that the administration has been negotiating "in good faith, which is always important to us in getting a good deal." He added that he likes the direction the discussions are headed."
"It doesn't matter how long we take," said FA President Dante Morelli. "Our goal is to deliver a fair contract to the membership."

Suffolk President Edward Bonahue said he is adamant about establishing a new contract with the union, but that it should be in line with the college's strategic plan that was approved last year.
"The plan lays out goals and strategic objectives focused on student success," Bonahue said. "These plans were put in motion to make sure students feel welcome and belong at the college which over all has implications on how faculty and students communicate overall. The strategic plan also emphasizes academic support services."
"Going to college is challenging, and part of that challenge every student should have access to support, tutoring, the learning labs as well as the libraries," Bonahue added. 
Some of the plan's goals have implications for how faculty works. A lot of the conversation is focused on making sure there is a culture that leads the administration and faculty to work together to ensure that every student feels at home and gets connected with the resources and classes they need.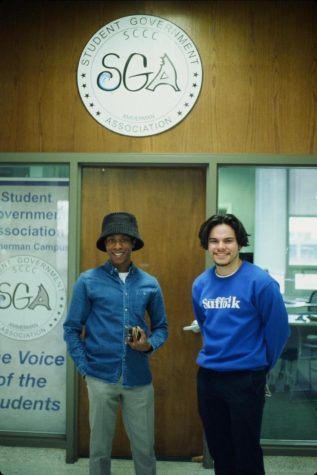 Every student's experience with the college is reflected in their interaction with faculty. That is why getting faculty set up with a contract that is centered on student success is so important, Bonahue said.
"The faculty are always the vehicle for carrying out the mission of the college."
Student Government Association President Jose Riquelme, a business major, believes the union should receive raises and additional contributions based on the details available.
"I am all for this," he said. "Any sort of learning experience that faculty can go to such as leadership conferences I think would be great," Riquelme said. "I'm on board with anyone who is here to help students get properly served because I feel the main stakeholders are students."
Riquelme, along with the SGA Vice President, a communications major who goes by Morgan, said they have had positive interactions with faculty. 
"I mean there is always room for improvement," Morgan said. "In any area, we can do a better job in promoting the services. But it really comes down to the faculty being available whenever the students feel comfortable and seeking the help that they need."