Sloppy Jane to Release 'Madison: The Complete Visual Album'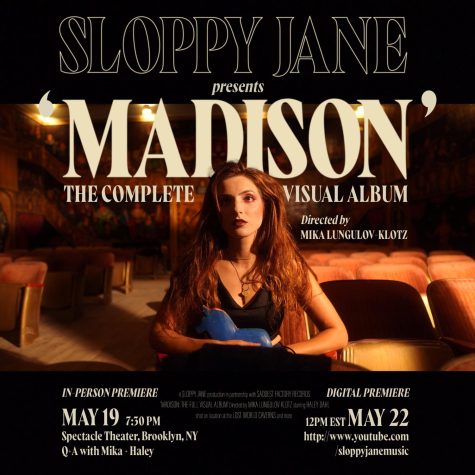 Brooklyn-based band Sloppy Jane is set to release a visual component for their 2021 album Madison on May 22, with an in-person premiere on May 19 at the Spectacle Theater in Brooklyn, NY. 
This visual album will be streamed on Sloppy Jane's Youtube channel on May 22 at 12 p.m. EST. It will feature interconnected music videos for all songs on Madison, which was released under Phoebe Bridgers' label Saddest Factory Records on Nov. 5, 2021. 
The album was recorded 200 ft underground in Lost World Caverns located in Greenbrier County, West Virginia over the course of a 2-week period in Oct. 2019. A portion of the visual component was shot in these caverns by director and co-producer of the album Mika Lungulov-Klotz.
"From Madison's earliest conception, director Mika Lungulov-Klotz and I dreamed of collaborating on a visual component to carry the listener through the album in its entirety. This visual narrative has been shot, edited, and archived over years—some videos were even made at the same time as the album was being recorded in 2019," said Sloppy Jane's frontwoman Haley Dahl in an announcement on Instagram.
"This series of interconnected music videos is a surreal kaleidoscope of the Sloppy Jane cinematic universe, set in a world where everything that has ever happened is happening forever, and everyone gets to play every part. Pay attention to the outfits, the fingernails, and the color blue."
Dahl also added that viewers should watch the music videos for her previous album Willow before the release later this month.
Listen to Madison here: