Activities of the Historical St. Patrick's Day
Every year on March 17, people all around the world fill up their glasses and find their lucky green outfits to celebrate St. Patrick's Day.
All across the globe, people celebrate this holiday. St. Patrick's Day originates from the 10th century in Ireland. The tradition of St. Patrick's Day, also known as the "Feast of St. Patrick," began to honor the death of Saint Patrick; a significant part of the Christian faith. The Irish claimed this to be a religious holiday for over 1,000 years.
The first St. Patrick's Day parade took place in America, not Ireland. A Spanish colonial document shows that the parade was held on March 17, 1601, in St. Augustine, Florida.
Some American traditions include preparing food such as corned beef and cabbage and decorating with symbols such as shamrocks. 
"We don't do much, but my grandma always makes corn beef with cabbage," said Karalynn Lemmon, 20, a general studies major. "The adults generally drink Guinness." 
One iconic tradition of this holiday is the leprechaun. The original Irish name for these magical figures is "lobaircin" meaning "small-bodied fellow." This belief seems to stem from Celtic belief in fairies that they are tiny and use their magical powers to serve good or evil.
"When I was younger my mom used to destroy the house and pretend that a leprechaun came in," said Riley Kremens, 20, a general arts civil studies major. "I love the leprechaun though, he's a little menace."
The traditions continue, a common phrase repeated on this day is "Erin go Bragh," which roughly translates to "Ireland until the end of time." The phrase is said to be recorded during the Irish Rebellion of 1798 and was on a flag as a sign to honor Ireland and Irish culture as a whole.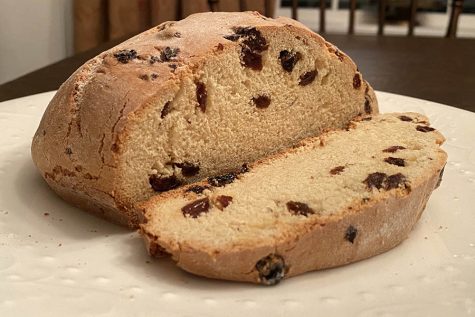 There are many iconic foods that people only intake during this holiday, one of which includes Irish soda bread. Although we associate the food with the Irish, it was created by Native Americans. The Irish took on this recipe and made it their own. The shape of the soda bread is what was significant to them. The Northern regions divide their dough into four triangles and cook each one on a flat griddle. Meanwhile the Southern Irish regions baked their bread in a classic round fashion and cut the tops off. This was due to superstitious reasons and belief as they believed a cross on top of the bread would let the fairies out and fend off evil to protect their households.
On Long Island there are various St. Patrick's Day parades and celebrations throughout March. Here is a collection of some that you will not want to miss.
St. Patrick's Day 5K Holbrook 
The run has been virtual but they are officially back live for this year. The entry fee is $25 per person. The live event starts at the Irish Times Pub in Holbrook. However, they are still offering the virtual run. 
When: March 18 at 9:00 a.m.
Rockville Centre St. Patrick's Day Parade
The parade will take place at The Municipal Parking Lot on North Sunrise Highway. As well, the parade annually shares its success in donations with three worthy charities. They have raised over $1,320,000.
When: March 19 at 12:00 p.m.
Glen Cove St. Patrick's Day Parade
This annual parade is back after a two year Covid- 19 hiatus. The parade begins at Finley Middle School. Their parade will consist of vintage cars, marching groups, Irish pipers, and so much more. This year the parade at Glen Cove is honoring Grand Marshal Gerard. 
When: March 20 at 1:00 p.m.
Wantagh 2022 St. Patrick's Day Parade
The Wantagh's parade returns as well and with live music by PLUNGE and DJ Savage. In addition, Irish food will be available to order all day. The parade will be at 3232 Railroad Avenue in Wantagh 11793.
When: March 20 at 12:00 p.m.
Ronkonkoma St. Patrick's Day Parade
The 31st annual parade in Ronkonkoma will be honoring Grand Marshal Gerry Mcmenamin. The parade will begin at the intersect of Patchogue-Holbrook Road and Portion Road. 
When: March 27 at 2:00 p.m.
Montauk St. Patrick's Day Parade
This 60th annual St. Patrick's Day parade is a big event to attend. It is deemed the second largest St. Patrick's Day Parade against those in Manhattan. This tradition starts off at Edgemere Road
When: March 27 at 12:00 p.m.