Holiday Buyer's Guide for Horror Fans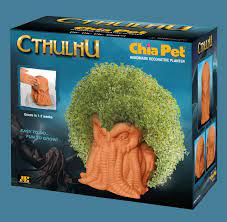 Although Halloween is more the big celebratory holiday for horror fiends, the December Saturnalias offer an almost endless variety of choices to tell that horrible, creepy loved one how much you care. Here's a list of some of the coolest and ghoulest gifts out there, sure to make your horror fan scream with delight. 
Home Decor
Cthulhu Chia Pet ($21.99)
Need that special something to make your home cyclopean? Horror fans will go insane for the Cthulhu Chia Pet. Now you can grow your favorite eldritch terror, it's easy! Just spread the seeds, water, and watch the cosmic chaos grow. Listen! Cthulhu Chia Pet is calling, "Ch-Ch-Ch Chia!"
Apparel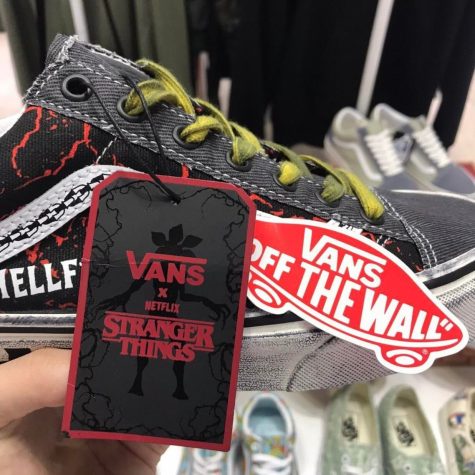 The Vans x Stranger Things Collection ($125.99 but $84.99 at Foot Locker)
Ultra-cool sneaker company Vans brings the Stranger Things world to life with a collection of apparel inspired by the series' retro fashions. The Stranger Things sneakers feature Demogorgon graphics and a red and black colorway honoring the show's iconic opening credits. Along with a "Friends Don't Lie" print at the sidewalls, this sidestripe silhouette includes a zipper at the heel for an easy on-and-off fit, ensuring that you're always Off the Wall and Upside Down, ready for your next 1980's adventure.
Music
THEY LIVE – Original Motion Picture Soundtrack LP ($35)
Mondo has become the premiere vinyl soundtrack label, releasing the best horror film music both classic and brand new. The blues-rock score to John Carpenter's subversive masterpiece They Live has been remastered by Alan Howarth (John Carpenter's frequent collaborator) and its sleeve re-designed by Alan Hynes. Mondo's pressing is also on Eco Vinyl, a material made up of recycled vinyl. 
Accessories
Loungefly Bride of Chucky Tiffany Mini Backpack ($80)
Here comes the bride—dressed in killer style! Pack for an escape with this Loungefly Bride of Chucky Tiffany Cosplay Mini Backpack. The front of this backpack features Tiffany's bridal outfit from the neck down, including a real Tiffany necklace in shiny gold-colored metal! Silver metal pieces, zippers, and applique details bring her leather jacket to life. A fully functioning belt closes at her waist. Tiffany's dress is made of white satin, and one of the silver zipper pulls on her jacket is shaped like a knife. There's even a detail of her Chucky tattoo with a red heart, right above her bodice. On the back, the word Chucky, and a red heart with a dagger through it, are embroidered. This backpack is the perfect accessory for packing your creepy dolls—or your necessities for everyday outings.
Book 
Death for Dinner Cookbook: 60 Gorey-Good, Plant-Based Drinks, Meals, and Munchies Inspired by Your Favorite Horror Films ($24.99)
For those adventurous cooks with both a good appetite and a sense of humor, Death for Dinner Cookbook: 60 Gorey-Good, Plant-Based Drinks, Meals, and Munchies Inspired by Your Favorite Horror Films offers plenty of horror inspired cuisine to liven up Friday night viewings of favorite scary flicks. Each recipe plays on both the title and the themes of classic and not so classic horror films like Crystal Lake BBQ Sliders, inspired by Friday the 13th (the only thing better than warm sunshine, campfires, and working up an appetite after escaping the clutches of Jason Vorhees are these pulled mushroom sliders) and The Hills Have Fries, inspired by The Hills Have Eyes (this hill of hand-cut French fries smothered in a béchamel and chili sauce and topped with fresh scallions, red onion, and cilantro and lime sour cream will have everyone watching you.
Toys 
NECA Toony Terrors ($15.99-$49.99)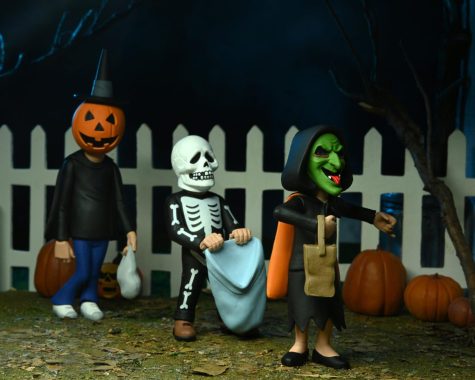 It wouldn't be the holidays without toys and the NECA Toony Terrors line offers fun takes on some of the most frightening horror icons. These figures are cartoony caricatures of characters from Jaws, Hocus Pocus, Evil Dead, Scream, The Shining, even Teen Wolf, making them the perfect way to introduce younger fans to the thrills and chills of the genre. My favorite set of Toony Terrors are the three Trick-r-Treaters from the underappreciated Halloween 3: Season of the Witch.