Writing Center Moves to the Huntington Library
The shift embraces the library as a 'central academic hub'
The Rose Tehan Memorial Writing Center, long housed in the Islip Arts Building, permanently moved to the Huntington Library starting this semester. 
The tutoring center, where students go to improve their writing skills, initially provided some services at the library last semester.
The Executive Dean Irene Rios said the writing center is now in a more central location, where all students can "be aware of its existence." The new room enjoys more space, more printers available, and more security. 
Elizabeth McCormick, an English teacher at Suffolk since 2013, became the center's coordinator in 2016. She said that the plan behind moving the writing center was to embrace the library as a "central academic hub," where all the different skill centers could be located in order for it to be a one-stop area for students to know where tutoring is and find the specific kind of tutoring they need. "We don't have that quite yet, but this is a gesture in that direction."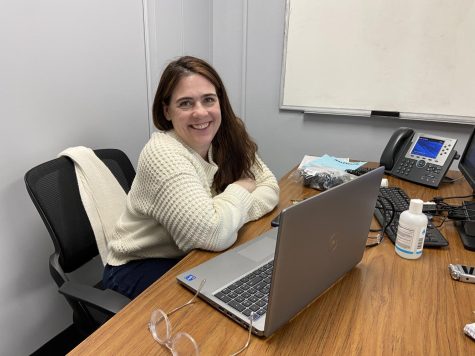 She also explained that the writing center was quite busy and functional back in the Islip Building, and the total number of students who visit the center could go up to 30 a day.
"The idea is that more students will discover and use the writing center," McCormick said.
The writing center services remain the same. Students can have one-hour sessions in person or virtually with professionals to improve their writing skills. "Everything is a little more accessible from this building," McCormick said.
"The writing center is a five-star experience," said Aliba Chowdhury, an 18-year-old psychology major currently in her second semester. "All the tutors are so helpful and give their utmost effort into helping you organize and brainstorm your paper." 
"It is very important for students to understand that you are not being evaluated," McCormick said. "You are being supported, and this service is for students of all levels of academics, developmental and graduating honored students, it's really a mix and we love helping all kinds of writers get to the next level."