7th Annual 'Out of the Darkness' Campus Walk/Push-Up Challenge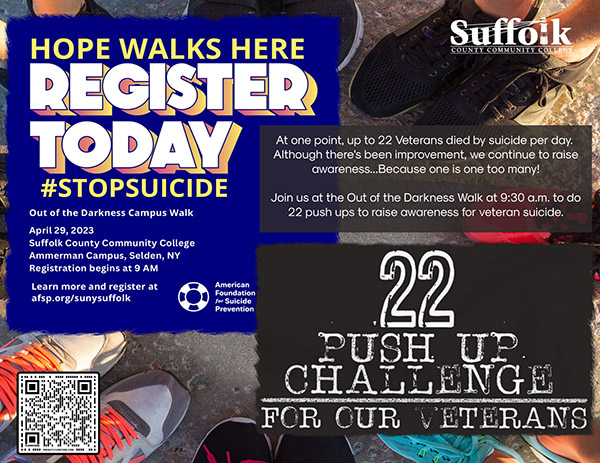 Join us on the Ammerman Campus on Saturday, April 29th for our 7th Annual Out of the Darkness Campus Walk to support the American Foundation for Suicide Prevention (AFSP). Funds raised are used to invest in research, create educational programs, advocate for public policy, and support survivors of suicide loss. In addition, our Annual 22 Push-Up Challenge to raise awareness about veteran suicide will kick off the walk this year. Both events focus around creating a community of care for all participants and remind those impacted by this and other mental health issues that they are not alone.
We remain the only college on Long Island to host an Out of the Darkness Campus Walk and look forward to our most successful year yet. It is a wonderful opportunity for students, faculty, staff and community members to come together for a great cause and to enjoy our campus this spring.
For more information and to register as an individual or team, go to afsp.org/sunysuffolk.