Honors Club Hosts 2nd Annual Pet Therapy Event
The program spread awareness about suicide prevention and the club's April 29 'Out of the Darkness Campus Walk.'
The Honors Club recently organized its second annual pet therapy event for students as part of its efforts to spread awareness about preventing suicide and promote the club's 'Out of the Darkness Campus Walk.' 
"When I heard about this event I felt like I really needed to come as I have been depressed, and I love dogs and they are so sweet," said Careb Bienaime, 19, a psychology major from Selden. 
The event was held on March 29 outside the quad side of the Babylon Student Center. 
"I came to know that pet therapy is happening from a friend, and I couldn't stop myself," Bienaime said. "I love dogs and between studies and the stress about it, it's a nice way to get away and stress buster."
Noah Fields, 20, of Holstville, and president of the Honors Club, said last year's event "ended up meeting mental health and wellness elements. We thought it would be a great thing to just have the event once again this year, as we all know college life can be really stressful and we wanted to bring pet therapy over for the same reason.
He continued, "The organization Pet Partner is back, they will be doing this three more times to help the students and to contribute to the cause."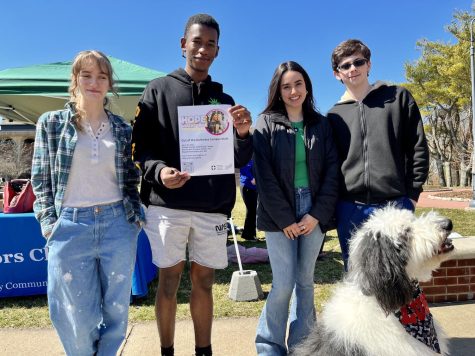 Noah Hammer, 18, treasurer of the Honors Club, added, "the dogs really are great, I love them. I was very happy with the amount of people that showed up, and everyone who stopped by said hi to the dogs and they contributed to the donations." 
Noah Fields said that the donations are for the "Out of the Darkness Campus Walk" suicide prevention event which is taking place on April 29 on the Ammerman campus. 
Fields said it's a ''big deal on campus and people come together to walk in solidary with suicide awareness and money is raised for suicide awareness research for the cause.''