Michelle Yeoh's Oscar Win Inspires Asian Community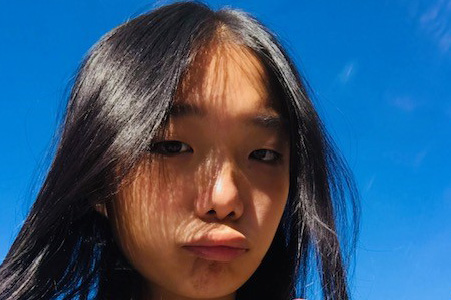 Hao Guo, Staff Writer
March 31, 2023
When Sean Chan learned that Michelle Yeoh became the first Asian best actress winner at the 2023 Academy Awards for her role in "Everything Everywhere All At Once," he was touched.
"I am proud of her," 19, who is originally from Hong Kong and now lives in Ronkonkoma, said of Yeoh. "She must put much more effort into developing herself in Hollywood as an Asian actress. It is not easy. Her success endows me with confidence as an Asian immigrant to achieve the American dream."
In "Everything Everywhere All At Once," Yeoh, 60, a Malaysian actress, portrayed a Chinese hard-working mom who owns a laundromat in America.
Sarina Kwok, 20, a psychology major also originally from from Hong Kong who now lives in Commack, watched the film three months before Yeoh won the Oscar and appreciated the cultural connection to the movie and how it played out.
"The deep meaning of the movie is about Asian kids needing their mom's understanding and acceptance, but in the current universe, the kids felt alone fighting between the parents' anticipation and their wishes. The imagination is added when the situation was totally changed in a different universe, and that is what the beauty of the movie lies in."
The film swept up seven Oscar awards: best director, best editing, best actress, best pictures, best-supporting actor and actress, and best original Screenplay. Its fast magical scene change, universe-jumping episodes, and bold imagination of the human future make it dubbed a  TikTok-era film by the Film Academy.
"It is a drama presenting an Asian culture," Kwok added. "The lines mix Chinese with English together, which makes the movie beautiful, and as a Chinese, I always feel proud when listening to Chinese lines because I can understand them."
For the historical moment on Sunday night, Yeoh impressed audiences with her acceptance speech, inspiring Asians to insist on following their dreams.
"For all the little boys and girls who look like me watching tonight, this is a beacon of hope and possibilities," Yeoh said. "This is proof—dream big—and dreams do come true. And ladies, don't let anybody tell you you are ever past your prime. Never give up."
"It is time for her success after she acted in so many action films in Hollywood," Kwok said. "She finally gained a big chance to win in her main role. I think she deserves it."