SCCC Makes Me Progress to Find My Career Direction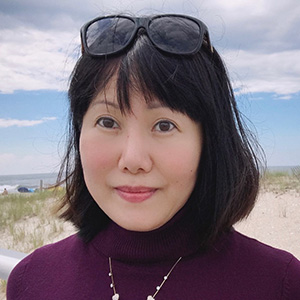 Time flies! After years of study at Suffolk Community College, I am graduating in May. I am so excited to see that I will succeed in finishing all the required courses in journalism major, which is an experience of joys and tears coexistence.
As a returning student, I deeply knew it was not an easy job when I decided to go back to school and stand together with other high school-graduate students. I haven't touched textbooks for some years, so I didn't know what would happen when I learn them again. Can I succeed in the courses? Will journalists be my dream role? With the questions, I encouraged myself to have a try.
Sometimes at the beginning, I thought about giving up and having a break, but I insisted on the efforts in the end. I was happy every time when I finished the course, passed the exam, and got a good mark. Again and again, I realized that I was able to achieve my academic goal and had loved the major of journalism, and also found my interests and faculties in journalism writing. Then, during the last semester at the college, I set my career goal to pursue a journalism career after the graduation.
Now, graduation time is coming, which reminds me of so many memories of college, of joys and tears. The joys were for the good grades by hard work, and the tears were for the occasional doubts from others and myself while facing difficult problems.
All of them are my life's most cherished experiences. After hard-working days and nights, I will stand at the graduation ceremony stage to celebrate my achievement, but at the same time, My academic course has not ended, it will be a commencement to continue my journalism study at the university. And the good news is I have been accepted by Stony Brook University and will become a journalism student to obtain my bachelor's degree in August.
It is Suffolk County Community College that assists me to fulfill my career dream and helped me stride the first step in my journalism career seeking and become my dream role in the future. I am leaving my college, but my heart will never depart from here.