The Return of Live Audiences And The Departure Of Zoom Productions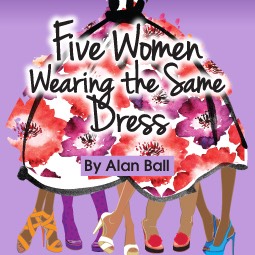 After a long year and a half hiatus from the theatre, live audiences finally return to Suffolk! In their return to the stage, theatre majors and lovers have joined to put on the comedic play "Five Women Wearing the Same Dress" by Alan Ball at Ammerman's own Shea Theater. Being their first show with a live audience, we would deem it a success as opening night was a sold-out show. After attending one of their show dates, we had the pleasure of meeting with Director Steven Lantz-Gefroh and the incredible cast of "Five Women Wearing the Same Dress" to hear about their experience with zoom productions and the exciting return of audiences.
When prompted with the question, "How did you react when you learned that live audiences were returning to shows?" Mya Bruno, who played Meredith, stated, "It was very much satisfying knowing that we have people to react to us finally," Bruno says, "and to have that little- nerves in your belly knowing you're coming out and there are people there rather than going on a screen and seeing no one."
Bruno had previously performed in zoom productions like many theatre students, including Desiree Mair, who portrayed Mindy. Mair also hopped on this question to express that "most of my acting had been over zoom, class wise and also the past two shows that I've done– so for me; it was like, very exciting and thrilling to finally be doing that." Mair continued, "but also, as we got closer and closer, I started to get really nervous and scared because I hadn't been in front of an audience. It's so strange to be doing that again suddenly; it feels weird– Unreal is honestly the best way to put it."
Most of the cast had worked on shows at Suffolk before, both virtual and live, though Delaina Tyne, playing Trisha, got to experience her first-ever production here at Suffolk with this incredible cast. Tyne described her experience for us, "going from Highschool to college was already a really big jump for me–Coming here and working with Gef (Lantz-Gefroh) was a huge jump for me. He is very, like 'you have to find yourself in your character' and that's something that I've never really done before, I've always just played the role," she continues, "so that was very different and working with people who have done shows here before, who are a lot older than me and more mature than me has shaped me into a different kind of person. " Tyne finished by saying, "I really appreciated working with all these people, and I'm hoping that I will be able to do so in the future as well."
In the height of the lockdown, students and faculty had to adapt to the online format of classes and meetings. This transition was no exception for our theatre students, who thrive on live audiences and rigorous rehearsal schedules. Theatre students and faculty had shifted over to Zoom to work on productions such as: "Brutality of Fact" by Keith Reddin, "Phases" by Steve Marsh, and Students within the SUNY Suffolk Department of Theatre Arts' Workshop, and most recently, "The Language Archive" by Julia Cho.
Steven Lantz-Gefroh, the director of "Five Women Wearing the Same Dress" and "Brutality of Fact," shared "the challenge was keeping it consistent. The rehearsal process was the same– but once we established that this is the way it's going to be, we just directed it like any other play." Students had to learn their lines and rehearse as usual, except for the literal box they had to adhere to via Zoom.
"The biggest challenge was getting them to use the cameras." Lantz-Gefroh shares, "Everybody had to be unified in the changing of the lights at a certain point, the changing of the background at a certain point, and their props; their individual props had to be in their rooms."
When speaking about the past zoom productions, Liam Attridge, who played Tripp, as well as one of the director's assistants, mentioned the struggle of welcoming an audience into your private room, "Acting in your own room and making it your professional environment, I think is a very difficult thing to balance, because for the last three weeks of the rehearsal process when we had the green screens and the lights, my room became a swamp of stuff." He continues, "to me, the hardest thing was having the clutter and it becoming your environment 24/7, cause you'd wake up, all of your classes would be online then you'd go to rehearsals and set up everything in your room– you never leave your room."
Delaney Ford, playing Georgeanne, mentioned the Zoom production "Phases" written by Steven Marsh and students, including Ford. She says, "We wrote the show, so we were able to craft our characters to either our own personalities or things that we know that we can relate to a lot, and for this role (her role as Georgeanne), there was a lot of things surface level that I can't relate to, and as I did more of a character study and got deeper into it, I realized there were actually a lot of things that were similar to me."
Ford brings up how she relates to her character adding, "I've had a lot of people come up to me and be like 'oh my god you're so different, I didn't even recognize you! I tell them, well, maybe I'm not as forward with some of the things that she does on stage, but a lot of her insecurities and many things that she kind of shows a lot more subtly are very similar to me. That's how I was able to relate to it more instead of having to craft a character that's never existed to fit my own personality."
It is safe to say that our cast and crew feel at home being back on the stage with an audience when Mackenzie Pharoah, playing Frances, expressed that, "I think it was really nice not being on Zoom, obviously, but because we're in the space and we get to rehearse with people and feed off of them instead of seeing them on a camera on a computer," the cast nodded and voiced their agreement.
These marvelous students have finally heard the clapping of hands for their outstanding work. They will continue to listen to the sound of clapping in the near future when "Young Frankenstein the Musical" has its opening night in November. We applaud the cast and crew of "Five Women Wearing the Same Dress" for their outstanding job and cannot wait to see more.