Suffolk Students Chime in on the Campus Mask Mandate
Suffolk students have mixed reactions to the SUNY mask mandate for inside buildings and crowded outdoor areas.
On Thursday, Feb. 9, SCCC President Edward Bonahue sent an email to the college community regarding the mask mandate. SUNY decided that students and faculty will continue to be required to wear face coverings inside all college buildings as well as in crowded outdoor settings and venues regardless of their vaccination status. 
Students have responded with mixed reactions.
"While I'm sure no one thoroughly enjoys wearing masks, I am relieved that our school is continuing to enforce them for the semester," said Emily Capra, 19, an education major. 
A few students agree with the mask mandate on campus as staying 6 feet apart is not always possible when in an enclosed setting. 
"I totally agree with the policy of having to wear a mask in school. We are too close to each other for long periods of time. The masks make it a safer environment for everyone," said Elizabeth Ovalle, 18, a liberal arts major. 
"I believe it is necessary to protect ourselves and each other. Desks won't always be 6 feet apart and the virus can easily be spread. The masks can at least offer an extra layer of protection," Capra said.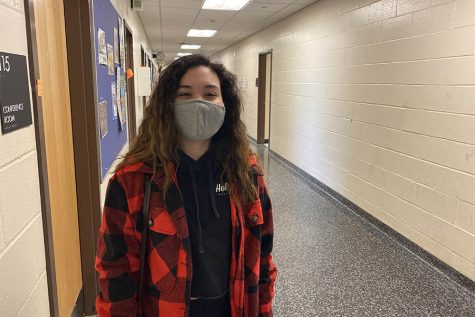 Some students feel that the masks are unnecessary due to the vaccine requirement and mandatory Covid testing every 2 weeks.
"It's annoying to wear a mask in class because it makes it a lot harder for me to wear my glasses which will give me a headache over time if I don't wear them," said Victoria Mienert, 19, a speech pathologist major. "I don't think it is necessary anymore to wear a mask due to everyone being vaccinated and getting tested especially since the rates have been going down rapidly."
"If a vaccination mandate wasn't required to attend in-person classes then I would fully understand why we would need to wear masks, but seeing as though it's required it feels unnecessary, " said Joseph Morais, 26, a radio and TV production major.
The new daily cases of Covid-19 have continued to drop significantly, almost 50% in the last few weeks. For more information check out, Coronavirus in the US: Where cases are growing and declining
With the height of Covid- 19 in 2020 masks have been required for the safety of the public. People had to wear them for their everyday whereabouts. Due to this, students have become accustomed to wearing a facial covering after being online their first semesters. 
"It was very weird to get accustomed to getting back into in-person classes since I was so used to staring at a screen all day to figure out what I have to do in my classes without a facial covering," Mienert said. 
"It was a bit of an adjustment to return to class with masks on solely for the face reveal factor. When you're meeting or working with new people for some time and you eventually see their face it's always a surprise because the lower half is never what you expect," Morais said.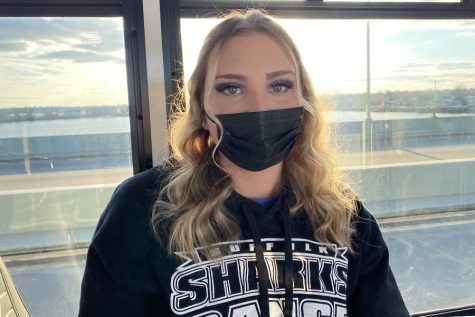 Facial coverings come with both negative and positive effects on students on campus.
"There can be some positives of wearing a mask in class as they help to stop the spread of germs but there are negatives. It's hard to breathe and it's hard for those with glasses that fog up to concentrate on their work," Mienert said.
"I believe that there are only positive effects from wearing a mask which is keeping everyone safe," Ovalle said.
"I don't think masks have many negative effects except for speeches or long periods of time talking when it gets harder to breathe. As for the positives of the coverings, less people are getting sick and it's starting to slow down the spread," said Lindsey Pasin, 20, an interior design major. 
Students have mixed feelings when it comes to wearing a facial covering when in a classroom. For those with glasses, it's an annoyance as they fog up making it hard to focus. However, others believe they're necessary as students are not sitting 6 feet apart.
For the time being, the New York State Governor, Kathy Hochul, ended the state's mask mandate for most public indoor spaces but no change has been announced regarding public schools or for SUNY colleges.
"There is a bit of disconnect when we wear masks and they can be a bit itchy sometimes," Capra said. "But if we're going to take on this virus, we need to take all the precautions possible to slow down and end it."