Graduating Covid-era students wonder: Was college worth it?
Many freshmen during the fall 2020 semester began their first day of college classes turning on their computer and "going to class."
After Suffolk, many graduating students plan to go on to other colleges. However, when looking back, there are certain aspects of the college experience that students feel they missed out on.
"Covid has definitely impacted my college experience in a negative way," said Isabella Gibaldi, 19, of Farmingville, a liberal arts major. "I feel like I missed out on getting myself prepared for my first semester of college and that already set the tone for how I felt about college."
While online is a viable option for some students, many prefer in-person learning because they feel like they get more out of it. For many students this caused a lack of connection between their peers and their professors. 
A lack of a connection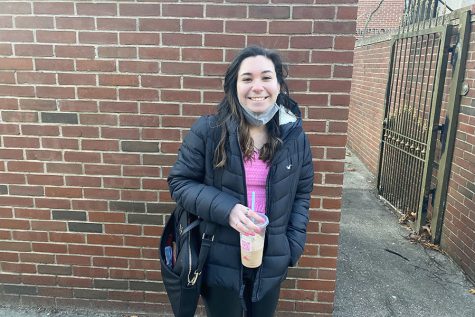 "I'm glad the professors tried to make you feel like you're in person with the Zoom classes, but it wasn't the same," said Victoria Mienert, 19, of Ronkonkoma, a speech pathology major. "You don't really connect with your professors." 
With in-person classes, she said, "it's easier to get all of your information and ask questions instead of sending an email and waiting for days for your professor to answer."
In-person students are able to get a more hands-on approach and can have a better connection with both their professors and the material, students said.
"Online is less engaging," said Dylan Hayes, 19, of Bayport, a computer science major. "I'm just looking at a computer screen hoping that I won't fall asleep or play Minecraft. Being in person forces me to actually pay attention and keep up with the work."
Scott Campbell, 18, of Coram, a civil engineering major, said professors are "trying their best to keep the students engaged and host events online, but it's not the same." 
'My first real classroom experience is right now'
Going into this semester, Sara Laschever, 22, of Medford, an early education major, said she wasn't as prepared as she thought and doubted herself the first two weeks "wondering if it really was for me." 
"Normally, I'm supposed to have hours upon hours of experience in classrooms observing, yet my first real classroom experience is right now. If times were normal and I had that classroom experience prior, I feel like it would've been different."
Eddie Martinez, campus associate dean of student affairs, didn't immediately respond about how this may have affected students or upcoming plans for graduation.
A learning curve
During the course of the pandemic, Suffolk professors have tried to make the students' experience with online, hybrid and fully in-person classes as 'normal' as possible. As the May graduates look back at their time at community college, many will decide if they got the most out of their college career thus far.
"My grades are improving and I'm more focused this semester," Hayes said. "However, many students that began their college experience online agree that they prefer in-person learning."
This semester was a learning curve for many students. From re-creating the classroom experience online to re-adjusting to on-campus learning, the class of 2022 learned more than just academics these last semesters.
"I feel like you're not hiding behind a screen anymore. You're getting to know people instead of just sitting in your house alone and being shy of what others are thinking," Mienert said. 
If times were normal and I had that classroom experience prior, I feel like it would've been different."