Fear You Can Hear, Suffolk Radio Student Charts New Ground with Innovative Program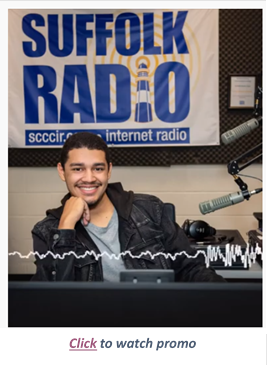 It's about all things freaky.
Suffolk County Community College Radio and Television Production major Christian Gonzalez' The Macabre Sessions set a new standard for innovative programing at Suffolk Internet Radio this past summer — a thirteen-part radio series.
According to Gonzaelz's suspense-filled radio promo, the horror program series follows a couple working for a secret agency that "… investigates all things freaky, everything from demonic choirs to other dimensions."
Gonzalez, a Copiague High School graduate, began his drama series on a lark – he needed to produce something for class.
"I was stuck," Gonzalez related, "writer's block. And then one day the idea just sparked. I took a leap of faith."
Gonzalez said after producing his first episode of The Macabre Sessions, Suffolk Internet Radio Station Manager Bill Terry urged him to produce more.
"Chris produced his first episodes for our Advanced Radio Production class last spring. The students in the class loved them so Chris produced more. We then discussed how to best program the series and decided on Friday nights at 9 as a summer series. The series is a very complicated production. From inception, to writing, to finding the talent, to recording the final mix of voice overs, music, and sound effects, Chris did it all," Terry said.
Gonzalez explained that the creative process began with a rough concept followed by approximately two hours of production in the studio finalizing a script and choosing sound effects.
"Once I have a blueprint for the program I'll choose the various voices from among my friends – fellow students in the Radio and TV program," Gonzalez said.
Gonzalez said this season's first episodes of his series ran from Memorial Day weekend and concluded Labor Day weekend. A series of new stories will pick up this winter.
Listen to Suffolk Internet Radio at: www.scccir.com
Listen to The Macabre Sessions on YouTube:
Promo: https://youtu.be/32DaBnCLmKg