Nassau Lions Blow Out Suffolk Sharks
The Suffolk Sharks lost to the Nassau Lions 73-54 on Feb. 6. The Sharks played the Lions on their home court, with each team coming into the game on a two-game winning streak. This was the last game the two teams will play against each other this season. 
"Well, the last time we played Nassau we got blown out by them. All we need to do is shoot the ball well and I think Suffolk will win," said Tim Davis, 21, a Suffolk student who attended the game.
Suffolk played a close game in the first half resulting in a 34 Nassau to 28 Suffolk. However, in the second half of the game Nassau out played Suffolk by shooting the ball efficiently. They made 43% of their shots and played an amazing defense all over the court. The final score was 73-54 with Nassau winning the last meeting of the season.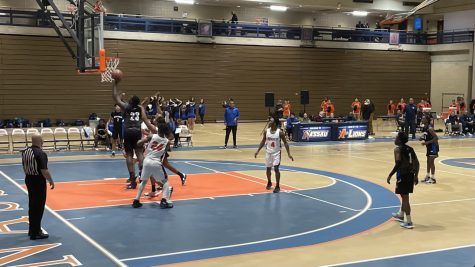 The best player on the Suffolk Sharks was number 3 Joshua Fenner and the best player for the Nassau Lions was number 1 Timothy Waite. For more information on each player here is the box score from the game. 
Austin Stewart, 19, is a student at Suffolk said, "In the first half we played a close game and when the guys came back from half we just fell flat and the game was gone from there."