Suffolk Sees 3% Enrollment Increase
The improvement is attributed in part to the number of students who continued their studies at Suffolk from the fall, data shows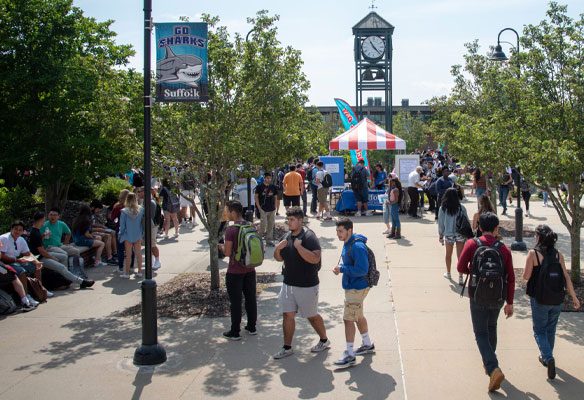 For the first time in nearly five years, Suffolk County Community College experienced an enrollment increase this semester, due in part to an increase in the number of students who continued their studies at Suffolk from the fall 2022, according to preliminary data reported to SUNY administration.
The spring 2023 enrollment is up about 3% to 14,349 students from 13,982 compared to the same time last year, according to institutional enrollment data.
"We also know that many of our students balance college courses with work and family obligations, and we want to do everything we can to offer flexible options that meet their needs," said Suffolk President Ed Bonahue in a statement. One way the school is doing that is through "MicroMesters," 7.5-week-long classes that are fast paced and designed to appeal to recent high school graduates who are used to attending school five days a week.
"Since my job is only late at night I can afford to take these five-day classes. I feel like I am getting my school done efficiently," said Jacob Garcia, 19, a computer science major from Islip. 
New York State community college funding is tied to enrollment. Increases in enrollment add to SCCC's revenue and fees as well, the college board of trustees Chair E. Christopher Murray explained in a statement.
"Over the last 18 months, the college has made a focus on the students' experience its highest priority, has expanded outreach to Hispanic students and families with bilingual marketing materials, and has raised the visibility of career-facing programs and short-term workforce certificates and the college is now seeing the benefits in terms of growth," Murray added.
This semester has shown an increase in enrollment on every campus for all kinds of students including new students, returning students and transfers.
"At Suffolk, there are signs of a promising enrollment recovery, particularly with the number of first-time students enrolling at the college and students who are continuing their studies at Suffolk," said Suffolk's interim vice president for planning and institutional effectiveness Kaliah Greene.  
"The real story is the shift in persistence of students we're seeing," said vice president for student affairs, Patricia Munsch. "More students chose to continue their studies from the fall '22 semester to the spring '23 semester as compared to last year." Nationally, retention and persistence are indicators of whether students will progress and ultimately complete their college education. "The entire college is focused on engaging students in ways that encourage their persistence, and we are working hard to extend this enrollment momentum into the fall and next spring."